My grandmother had a signature scent. It was Giorgio, by Giorgio Beverly Hills. Every Christmas, she would receive a new yellow-and-white striped box of it. Every time I'm missing her really bad, I go to the Macy's perfume counter and get a sample and I'm right back in her arms.
For that reason, I love the idea of a signature scent. I'm a perfume girl--for the past few years, my go-to has been Vanillary by Lush. But normal perfumes are too harsh for poor little Lulu's sensitive skin, and so I had to stop wearing perfume after everything I tried made her break out into a rash.
But I think I might have found a compromise.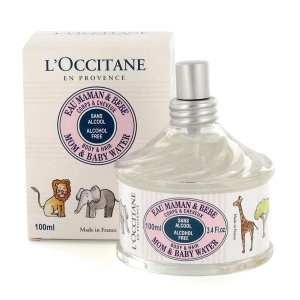 L'Occitane's Mom & Baby Water has a gentle almond smell with a light floral note, sort of like if clean laundry and vanilla sugar cookies had a baby. It's so mild that it won't cling to baby's hair and skin and stink her up, but it's got staying power to last through the day. It's alcohol free, and enriched with glycerin, which means that it won't harm sensitive skin.
I love the memories that smells evoke and I love the fact that this scent (along with Burts Bees Baby Bee!) will always evoke for me the first months of motherhood.
What's your signature
scent? Are there
any kid-friendly perfumes that you just adore?
(Dried spit-up doesn't count. Because nobody adores that.)